'Another Day, Another Time' concert strums up fitting folk tribute for Coen Brothers' 'Inside Llewyn Davis'
20 release of "Inside Llewyn Davis." Ahead, the brightest moments from the star-studded event. Countdown … 5. The live rendition of "Please Mr. Kennedy." Since "Inside Llewyn Davis" premiered at the Cannes Film Festival in May, the John Glenn Singers' (them being Isaac, Adam Driver and Justin Timberlake) performance of "Please Mr. Kennedy" has been an oft-discussed talking point. Timberlake was absent from Sunday night's concert — Elvis Costello was introduced as his understudy, because it was that kind of evening — but that didn't matter all too much thanks to Driver. The "Girls" star, who is tasked with utilizing his basso profondo to sing-speak things things like "outer … space" and "one second please" in the tune, stole every second of the live rendition, just as he does on screen. Say hello to your year-end obsession. 4. Joan Baez and Patti Smith performed together. This was totally normal. 3.
Rihanna Booed After Showing Up 80 Minutes Late for Concert
(Photo by Evan Agostini/Invision/Associated Press / September 29, 2013) Also By Randall Roberts Los Angeles Times Pop Music Critic September 30, 2013, 8:15 a.m. NEW YORK — Early during the magnificent tribute to folk music at Town Hall while much of America was learning the fate of "Breaking Bad's" Walter White, actor John Goodman welcomed the capacity crowd to a night of reckoning devoted to what he called "weeping and wailing and sowing and reaping." Performing folk songs from the canon, many of which are featured in the forthcoming Coen brothers film "Inside Llewyn Davis" and its soundtrack, what followed on Sunday night was three-plus hours focused on hard truths and tested faith, on doubt, death and, of course, rocket ships to the moon. A movie set in the Greenwich Village folk scene of the early 1960s, "Inside Llewyn Davis" features music curated by T Bone Burnett, and though the night bore his imprimatur, it was the artists who burned. TIMELINE: Summer's must see concerts Specifically: Joan Baez, Patti Smith, Jack White , Gillian Welch & David Rawlings, the Punch Brothers , Elvis Costello, Marcus Mumford, the Milk Carton Kids — take a breath, because the lineup was packed with talent — Oscar Isaac , the Avett Bros., Conor Oberst, Secret Sisters, Willie Watson, the Carolina Chocolate Drops'Rhiannon Giddens and more delivered sharpened songs on acoustic instruments, singing in pitch perfect tone that left an oft-awestruck audience silently stunned — then vocally thrilled. One by one they came, drawn to a stage that over the years has supported some of the greats. It was Bob Dylan 's gig at Town Hall50 years ago, for example, that prompted the New York Times' Robert Shelton to write a rave that helped propel the erstwhile troubadour to stardom. The Punch Brothers, led by Chris Thile, greeted the crowd with a languid version of "Tumblin' Tumbleweeds," then transitioned into the evening's backing band. Mandolin, banjo, bass, guitar and fiddle, the portable instruments that have carried the music through the decades, drove voices consumed by the spirit of hand-me-down folk. "Hang me, oh hang me, and I'll be dead and gone," sang Isaac in "Hang Me, Oh Hang Me." The singer and actor plays the titular character in "Inside Llewyn Davis," and the song opens and closes the film. Loosely based on the late singer Dave Van Ronk, "Davis" focuses on the plight of a struggling singer to prove his gift to an often hard and unforgiving world. Isaac's portrayal succeeds because he's such a talented musician. PHOTOS: Unexpected musical collaborations The night's narrative was driven by something more elusive than plot, though, and the wonder was divided equally between the songs themselves and the many thrilling interpretations. I don't know if I've ever been in a room with so many humans with perfect pitch. Notes soared with pure vocal and instrumental virtuosity as young voices embodied ancient emotions. Gillian Welch and David Rawlings channeled the Carter Family for "Will the Circle Be Unbroken," a deathly ode to eternal bliss featuring dueling guitar and mandolin solos. Actor/singer Stark Sands , who plays an earnest Southern singer in the film, offered the sweet folk-pop song "Last Thing on My Mind." Lake Street Dive highlighted magnetic vocalist Rachael Price, drawing fromfolk and jazz for "Go Down Smooth." Over and over, the boldfaced names proved their status. Jack White delivered a typically raw and honest version of "My Mama's Baby Child," a song over the years interpreted by artists including Bukka White and Lightnin' Hopkins.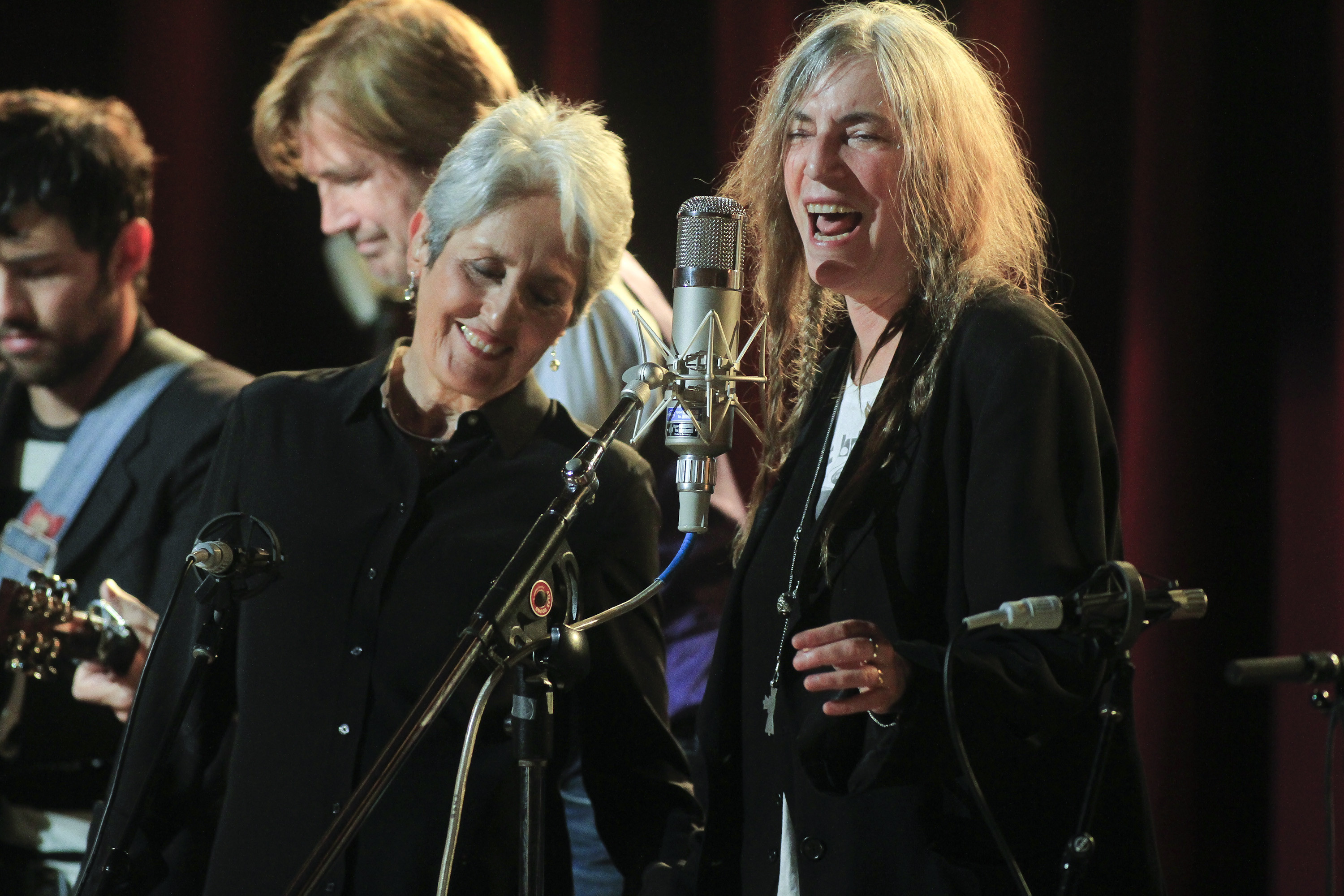 The Herald Sun reported that she also was 40 minutes late for a concert in Perth on Tuesday, on top Thursday's late appearance. . @rihanna over an hour late to the stage in #Adelaide – along with Battleship – that's at least three hours of our lives you've wasted. Sam Kelton (@kelts82) September 26, 2013 "DISGUSTING…my14 year old paid $140 for a waste of time ticket," Tracey Scholl wrote on The Advertiser's Facebook page about the concert. "She was so disappointed, Rihanna is meant to be a professional, I'm sure if she was in another line of work getting paid $140 for an hour and a half, and she rocked up that late, she would be looked down upon…Never again." Editor's Note: ObamaCare Is About to Strike. Are You Prepared? Once at the concert, Rihanna under-whelmed fans and reviewers alike, with some claiming she was drunk on stage, according to Tobias Hadke of NovaFM.com . "When she finally arrived, it was obvious Rihanna had been enjoying a few sherbets backstage," Handke wrote. "If her glassy eyes didnt arouse suspicions, then her constant crotch grabbing and lack of actual singing would have given the game away. Not that Rihanna didnt give her vocal chords a good workout, but throughout the concert, particularly during the first half, she relied on a backing track and the harmonious support of her backup singers, while she concentrated on her dance moves." RadarOnline.com noted that constant reports of partying have hampered many dates on Rihanna's Diamond World Tour. The celebrity website pointed to numerous reports about the singer being late for dates in Cologne, Germany; Sunderland, U.K.; and Antwerp, Belgium. Gas Prices May Continue to Plummet Monday, 30 Sep 2013 16:18 PM National gas prices dropped 19 cents per gallon in September, the largest monthly decline since October 2012. If the tre… Steve Jobs' Family Home May Become Historic Site Monday, 30 Sep 2013 14:27 PM It has none of the breathtaking majesty of Mount Rushmore, the Golden Gate Bridge, or the Statue of Liberty, but the mod…
A few of the stars dated from the period in question (the 60s), including Joan Baez and Bob Neuwirth. Others arose in the next decade, and from an opposing genre like Patti Smith and Elvis Costello . But the majority of the pickers and strummers made their name in the last decade, including The Decemberists Colin Meloy, Gillian Welsh, Jack White, Colin Oberst and the Avett Brothers. All gathered for a show called Another Day, Another Time, which toasted the music, and milieu, of the forthcoming movie from Joel and Ethan Coen, Inside Llewyn Davis. The flick, which opens December 6th, tells the story of a Bleecker Street troubadour from the 60s, vaguely based on the life of Dave Van Ronk. Essentially, the movie, and its forthcoming soundtrack, mean to do for the Greenwich Village folk scene of fifty years ago what the Cohens O Brother, Where Art Thou did for old timey, acoustic music of an even earlier era. Evan Agostini/Evan Agostini/Invision/AP Musicians Marcus Mumford, left, and Oscar Isaac jam together during the 'Another Day, Another Time: Celebrating the Music of Inside Llewyn Davis' concert. Stars from the movie were on hand to encourage, and sometimes warble along, including Carey Mulligan, Stark Sands, Adam Driver, and, as jaunty MC, John Goodman. The generous, three-hour show was taped for a Showtime special, to debut December 13th at 9 p.m. The tone and volume of the performances provided a striking contrast to the folk style currently raging on the charts. While million-selling bands like Mumford and Sons, The Lumineers, and Of Monsters and Men perform acoustic music on steroids, pounding their mandolins, and sawing on their fiddles, like they were electric guitars, here the players adopted an almost painfully intimate and close approach. The house band, the versatile Punch Brothers, kept most of their inflections delicate, savoring the nuances of their chord-changes and melodies rather than hammering them home. The light touch of the playing, and often of the singing, contrasted the songs sometimes dire subjects.